What Does AYE Look Like?
Photos From Past Conferences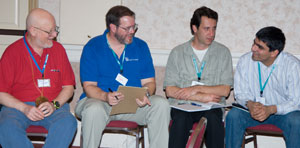 Taking exception to the hosts.
Meeting new friends and colleagues.

Working together, sharing knowledge.

Sharing problems and solutions.




Enjoying spirited discussions.

Enjoying open-air meals with friends.

Watching the hosts solve their own problems.

Watching the hosts trying to solve others' problems.